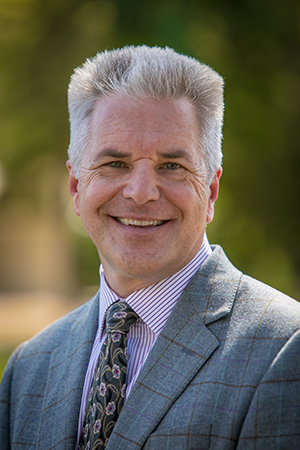 (THOUSAND OAKS, Calif. — Sept. 8, 2022) California Lutheran University has received $2.5 million to provide scholarships to accomplished students from low- and middle-income families.
The donation from the Camarillo-based TOLD Foundation is the largest that Cal Lutheran has ever received for scholarships outside of an estate gift.
The Rod Gilbert Achievement Scholarship is designed to address the fact that a growing number of students with financial need are attending Cal Lutheran. The share of the university's undergraduate students who are eligible for federal Pell Grants, which are awarded to those with exceptional financial need, increased from 16% to 30% during the last 15 years. In the 2021-2022 academic year, 60% of undergraduates received state or federal need-based financial aid. These trends align with the Hispanic-Serving Institution's successful efforts to enroll and graduate students from diverse racial, ethnic and socioeconomic backgrounds.
The scholarships will not only help students with the highest need, but also those from middle-income families who don't qualify for state or federal grants. These students also struggle to afford a college education.
"This gift is extraordinarily special," said Cal Lutheran President Lori E. Varlotta. "Rod Gilbert is a longtime Cal Lutheran friend, donor and regent who has developed a sophisticated understanding of student needs and has found a new way to support students. While endowed scholarships last longer, the immediate impact is limited to the interest earned. This most recent gift, as directed by Rod, allows us to create 'expendable' scholarships in which 100% of the gift is available immediately for scholarship distribution, enabling us to support students who may otherwise not have been able to attend Cal Lutheran."
The scholarships will be awarded to incoming students with high academic achievement and involvement in activities outside the classroom. Awards will be renewed each year if students meet academic progress requirements and continue participation in such programs as athletics, research, student government and clubs.
"It's a privilege to assist these particular students with access to a high-quality Cal Lutheran education," said TOLD Foundation President Rod Gilbert, a member and former chair of Cal Lutheran's Board of Regents. "I have witnessed a widening gap between the cost of operating this university versus students' ability to pay tuition. Our grant is intended to address that substantial difference."
Scholarships will be awarded up to $15,000. About 100 students will receive the scholarships at Cal Lutheran over eight years.
"This generous donation will help us keep the doors wide open to high-achieving students from all backgrounds," Varlotta said. "We are fortunate to have the Foundation as a long and loyal partner that supports our mission to educate the next generation of global leaders."
Rod Gilbert's parents, the late Jack and Carol Gilbert, are among the most generous lifetime donors in Cal Lutheran's history and created the TOLD Foundation in 2011. Rod Gilbert, who began serving on the Board of Regents in 2003, is president of TOLD Corp., a Camarillo-based commercial real estate developer and asset manager founded by his father. A recipient of the Honorary Alumni Award, he has provided the university with guidance on construction, real estate and investments.