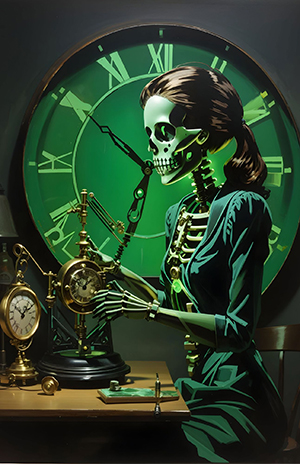 On Nov. 9 at 8 p.m., the California Lutheran Theatre and Dance Department will open its production of Radium Girls, a play by D.W. Gregory based on a book of the same name by Kate Moore. Performances will be in the Preus-Brandt Forum on the Cal Lutheran campus in Thousand Oaks and will be directed by drama professor Kenneth Gardner.
Radium Girls is set in Orange, New Jersey, during the 1920s when the radioactive element radium was common in the products of daily life. The main character is Grace, a 14-year-old girl who gets a job at a watch factory that uses radium-based paint to make its products glow in the dark. Grace falls ill with radium poisoning; she and other workers who get sick sue their employer, raising awareness of their plight as they fight for justice.
Admission to Radium Girls is free. Reservations are suggested; information is available here. Donations will be accepted.
This production is supported by a generous estate gift from the Williams Family Trust established by the late Richard and Elaine Williams.
Details:
Radium Girls by D.W. Gregory
Directed by Kenneth Gardner
Cal Lutheran Theatre and Dance Department
8 p.m. Nov. 9-11 and Nov. 16-18; 2 p.m. Nov. 19
Preus-Brandt Forum, California Lutheran University
60 W. Olsen Road, Thousand Oaks, California
Details and Ticket Information
About the Theatre and Dance Department