When it comes to his students, Michael Hart, DMA, wants them to be prepared to adapt to a changing world. He's seen many changes in his 13 years at the university and has been guiding the Music Department through them as the chair since 2019.
In his new role as associate dean for the creative and performing arts, he's looking forward to shepherding the division — and its students — into the future.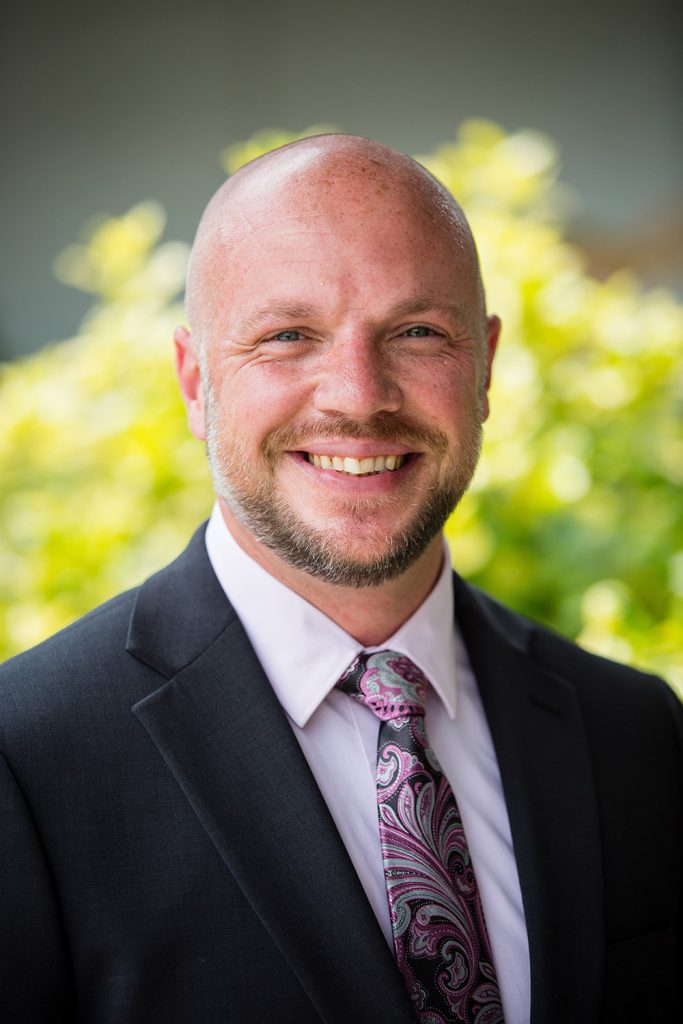 Will you share some of the recent changes within the Music Department?
Exciting things have been happening recently. One is that the choir is going on tour in Europe next year under the direction of Wyant Morton. It's the first international tour since before the pandemic.
Also, we built a recording studio for the Music Production Program. It includes the live room where recordings take place, the control room with the big soundboard, and several rooms where students can work on their projects and learn how to use the equipment before going into the control room. We're excited to have this high-end production studio that many liberal arts campuses don't have.
And I'm excited that a new performing arts facility is included in the 2022-2027 Strategic Plan and Campus Plan. I think our music and theater departments have gone above and beyond what you would think we are capable of, considering our facilities. I'm proud of the faculty and what we're able to do with the resources we have to put forth high-end productions.
What sort of challenges has the department faced?
One of the big things has been recovering from the COVID-19 pandemic.
At first it was about figuring out how to provide a space for our students to perform and bring our audiences back, while making sure everyone stayed safe and healthy. We successfully navigated that and last year we had the highest number of performances since I've been chair. It was great to have music back on campus because I think it really contributes to our vibrant liberal arts and sciences campus.
The pandemic had an impact on some of the high school arts programs and we see some of the effects on music students coming in. Maybe they didn't have the daily fundamentals they would have had during in-person learning, so they've had to work a little bit harder to catch up.
The pandemic also strained some students' mental health. We care about the mental and physical health of our students, along with their intellectual and cultural development, so Cal Lutheran is working to improve that.
Like many fields, the music industry changes rapidly. How do you prepare students for a career and what will that look like 20 years from now?
There are so many directions you can go with music, so it's exciting to see what our alumni are doing. Some are music educators, others are performers. With music production, we're so close to a lot of recording studios in Los Angeles that some alumni are working in them, some do artist management. Some are producing their own music and many do several things to piece together a career. Everyone does something that fits their interests and skill set.
One thing we try to impress upon our students is that they need a broad skill set because the music industry is constantly changing. The minute we think we have it figured out, we're already behind. We try to instill that reality and help our students learn how to promote themselves and to think creatively and entrepreneurially. We're always thinking about our curriculum and how to prepare our students for the 21st century.
What will your new role as associate dean for the creative and performing arts entail?
I see my role as helping guide the entire creative arts division — music, theatre and dance, art, multimedia, and film and television — through the larger strategic plans of the university as we start creating our own initiatives within the division. So, I'm a shepherd if you will, working with department chairs on everything from large-scale planning to more granular issues like faculty contracts and budgets and course scheduling. I love the process of taking what can sometimes be big, abstract ideas and figuring out how they work on a departmental level. That's what I really love doing.