(THOUSAND OAKS, Calif. — Sept. 26, 2023) On Oct. 6, California Lutheran University's William Rolland Gallery of Fine Art opens "Print+: Sameness & Otherness in Contemporary Print Media," a show that presents works of protest and resistance by 22 artists from different backgrounds who use the tools and techniques of printmaking in novel ways. The opening corresponds with Cal Lutheran's annual homecoming weekend and will be on display through Feb 1.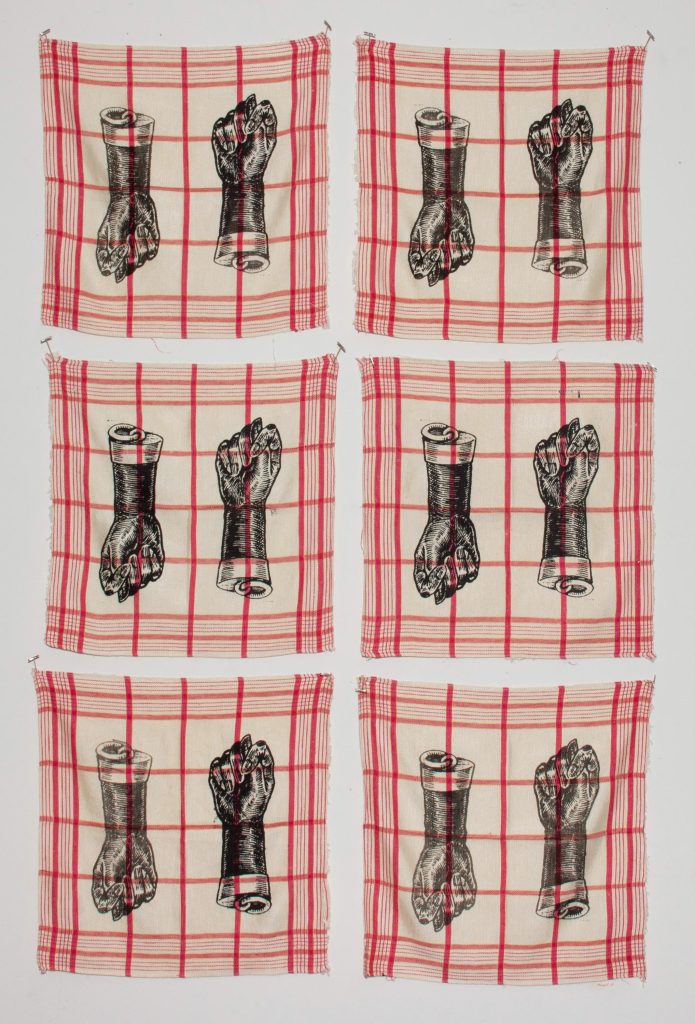 Multidisciplinary artist Sheila Goloborotko, the curator for "Print+," said in her curatorial statement that the exhibit "focuses on the importance of showcasing artwork where diversity, equity, accessibility and inclusion create an essential and fertile ecology."
Works in "Print+" will focus on printing but also will use a variety of materials and media to present a unique perspective on personal experiences. HIV-positive artist Daniel Luetke, for example, fashions prints of his urinalysis and blood tests into a mosaic. Artist Alison Saar addresses issues of socioeconomic status and skin color by using shop rags and handkerchiefs. Kat Chudy's work contains hospital gowns used in MRIs.
"They are gay, activist, straight, male, female, trans, queer, old, young, white, Black, Indigenous, people of color and immigrants. They are disabled bodies and bodies in transformation — yet not one artist would want to be defined by such singular terms," Goloborotko said.
She also provides a working definition for "Print+" in her curatorial statement:
"'Witness' is the essence of what a print does and how it functions from inception to the present day. It will outlive lifetimes; its power will exist after fad and upheaval. A print is something that leaves a mark."
"Print+" is a traveling exhibition that originated at Hunterdon Art Museum in Clinton, New Jersey. Cal Lutheran is its last stop.
The exhibit is open Tuesdays through Saturdays from 10 a.m. to 5 p.m. Admission is free. For more information visit RollandGallery.CalLutheran.edu.
###
MEDIA NOTE: Photos are available. For additional information, contact Mark Berry, at markberry@callutheran.edu or 805-493-3839.