Making space for educational travel while a graduate student isn't easy, but for those who do, the opportunity to gain perspective on their studies is worth it.
It's why Michelle McMurtry walked across the stage at Commencement in May, but had one last assignment in the Master of Public Policy and Administration (MPPA) program — to board a flight to Ecuador for a course on ecotourism, sustainable farming and policy initiates.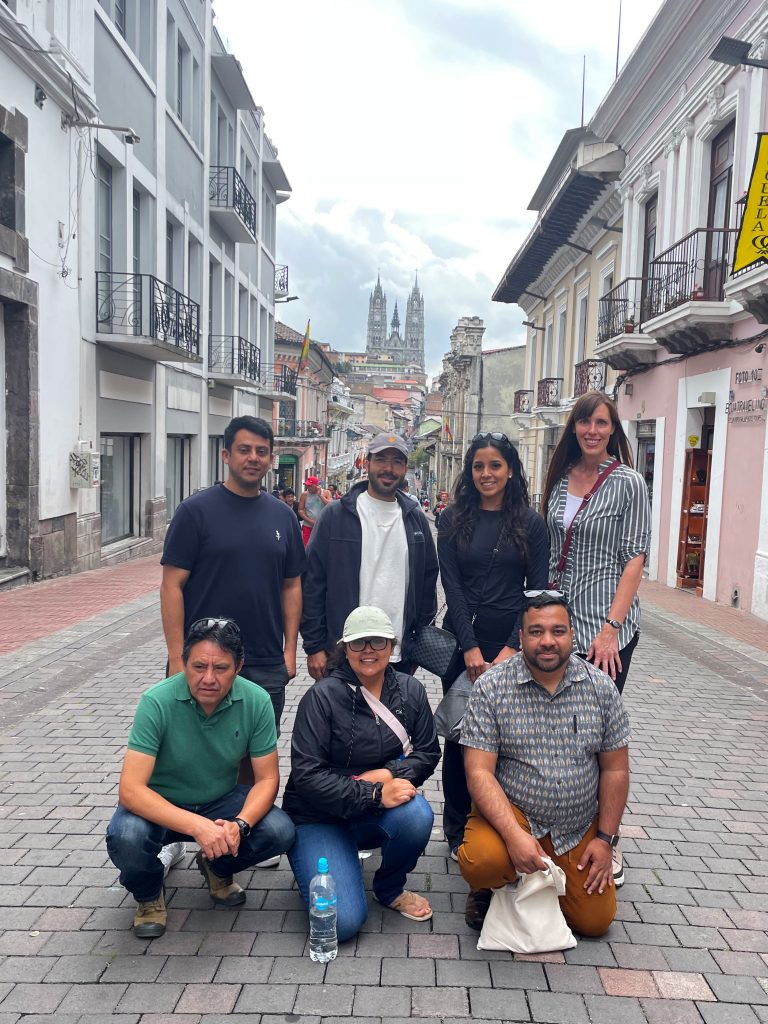 Meanwhile, Stephanie Gamboa is timing her graduation for August to take advantage of every last travel course offered in the MPPA program. In a span of nine months, she will have made four international and domestic trips for professional and personal growth: the MPPA program's first visit to Tijuana, Mexico, the long-running Sacramento Policy Institute, the trip to Ecuador and, finally, a new course in Washington D.C.
All these for-credit travel courses are slated to return in the 2023-24 academic year.
Like most MPPA students, Gamboa and McMurtry are in the midst of their working careers. Both are also mothers with no time for leisure travel, but they have decided to prioritize educational travel for a few reasons.
McMurtry, an office supervisor with the city of Thousand Oaks, took advantage of her employer's help with tuition and started "chipping away" at her degree shortly before COVID-19 struck, which meant attending most classes over Zoom. Spending four years on a master's degree made her four-day experience at the Sacramento Policy Institute all the more important.
"You lose steam after a while," she said. "This program and listening to these amazing, engaging speakers — it was just a reinvigorating experience. It just kind of lit the fire again."
After all the remote learning, McMurtry was glad to befriend colleagues in person and discover "their silly side." For this mother of two, the spring trip to Sacramento was also "the first time in my life I was able to go somewhere and really only have to worry about myself."
The View from Friendship Park
With its focus on border issues, the December travel course in Tijuana was meaningful for Gamboa as a second-generation American of Mexican heritage. But this single mother prioritizes travel because she likes what it makes her think about.
"It will become practical," she said. "You will have an insight that you normally wouldn't have had, had you not engaged in this activity."
On study abroad as an undergraduate, Gamboa learned there was no better way to leave home than as a student. Even so, Tijuana beat her high expectations, proving the value of meeting issues on the ground. She deeply appreciated Cal Lutheran grant funding that made her two-night stay across the border almost free and the planning to ensure a safe return.
The pilot program in Tijuana was an optional coda to an 11-week course in nonprofit management taught last spring by Sabith Khan, MPA, MA, PhD. For the trip, Khan lined up visits to two shelters for migrants, a mini-academic conference at the migration-focused Colegio de la Frontera Norte, and a guide for a visit to Friendship Park, which sits on both sides of a border fence extending into the Pacific Ocean.
Because the two migrant shelters had different philosophies, funding sources and staffing, Gamboa explained, they offered a case study in managing nonprofits. Given her work experience in child protective services, she was especially impressed by the support that young victims of trauma and abuse received at the shelter operated by nuns.
At Friendship Park, Gamboa saw people chatting across the border fence on FaceTime in order to hear one another over the waves. A paintable section of the barrier was covered with "messages to get us to think about the social construct of that wall." Vendor carts lined the outside of the park, selling fruit and artisanal souvenirs.
"A textbook can only convey so much information," Gamboa wrote in her reflections on the trip.
Be a Student, Not a Tourist
"My life has become very rich through travel, and I think I just want to share that with the students," said Khan, the MPPA program director, who left his native India in his early 20s.
Khan became a naturalized U.S. citizen four years ago and knows the worth of an American passport, which lets the bearer "just show up almost anywhere in the world." He admits to being "genuinely shocked about how many of our students don't have passports."
To design travel courses in the U.S. and abroad, he makes use of his contacts and his academic research in topics such as religion, civil society, refugee resettlement and international development.
"These days, no issue is really local," he said. "You could argue, most issues are global in some way or another."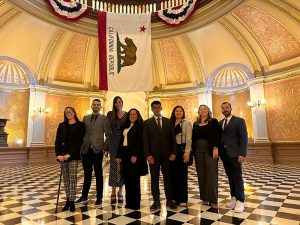 Khan also sees the MPPA travel courses as a great opportunity for students in other graduate programs.
He urges students to note their advantages — not many people get the same access to policymakers.
When talking with people who run things in Sacramento or Washington, he encourages students to exchange views and ask tough questions: "Look, this is a no-holds-barred conversation. Make use of the situation that you're in."
"Regardless of what age you are or what responsibilities you have, you need travel courses. Sign up for it. Make use of it," he said. "As a student, you get benefits that you don't have once you graduate. You get scholarships, discounts; people treat you nicer because you're a student."
Watch a video about the December trip to Tijuana on YouTube.
Learn more about the Master of Public Policy and Administration program at CalLutheran.edu/mppa.