To the Rev. Rachel Eskesen '04, MA, MDiv '14, the work of a pastor can look remarkably similar to the work of an English professor.
Eskesen should know. A Cal Lutheran English literature major who graduated in 2004, she went on to earn an MA in English at Leeds College in England, then attended Pacific Lutheran Theological Seminary to earn a Master of Divinity in 2014.
Eskesen now lives in Munich, Germany, where she serves as director of the Europe desk for the Evangelical Lutheran Church in America (ELCA). One aspect of Eskesen's work is nurturing the ongoing relationships with ELCA partners across Europe. In 2022, that included working closely with her team and ELCA Lutheran Disaster Response to coordinate ELCA's support for regional partners and their humanitarian response to the needs of refugees arriving from Ukraine.
As an undergraduate at Cal Lutheran, Eskesen said she was "heavily influenced" by her time in the English department, and by one professor in particular, J.T. Ledbetter, a published poet "who guided us into embracing the overlap between religious study and literature study. I still believe that faith and God are often experienced in the in-between spaces, the liminal spaces, and poetry … can help guide people to those spaces and experience the fullness of God."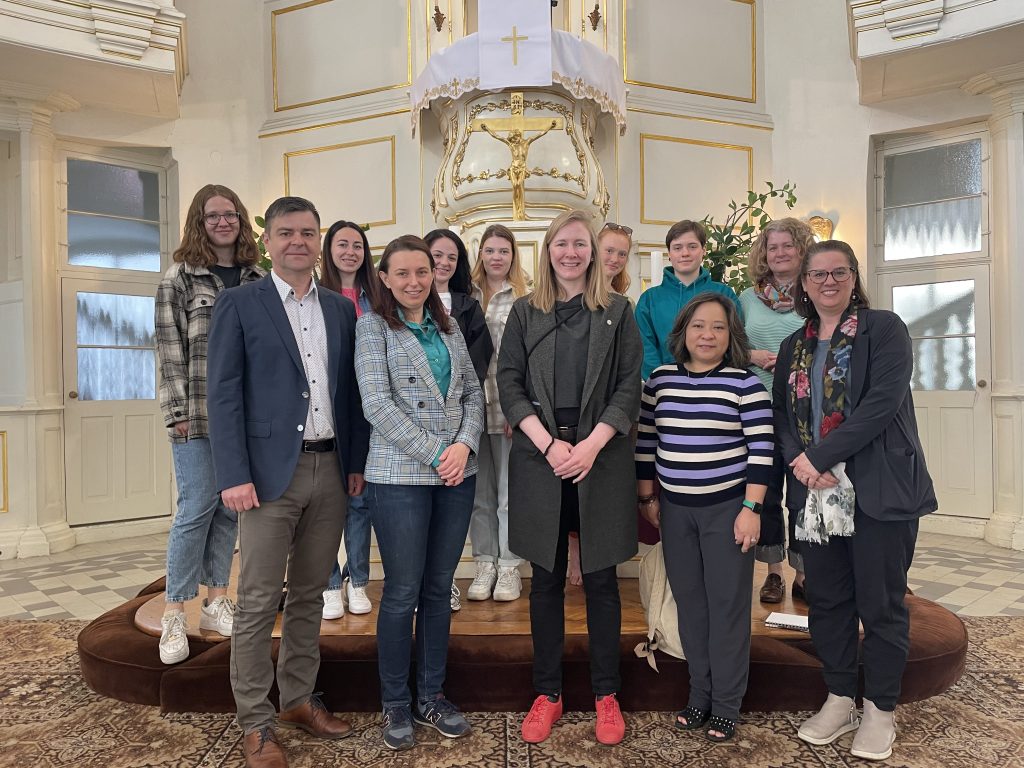 Eskesen has always made space for God in her life, but she reluctantly accepted her initial call to be a minister. A native of Auburn in Washington state, she grew up an active member of her Lutheran church, and after graduating from Cal Lutheran served as an ELCA Young Adults in Global Mission volunteer in Cairo, Egypt, with Saint Andrew's Refugee Services. She then returned to Washington to organize an after-school math program for at-risk youths.
Eskesen said she felt called to attend seminary, but resisted at first because she couldn't see herself as a pastor, and instead got her MA in English. Eventually, she decided to switch vocations, in part so she could represent God through active pastoral work in the real world.
"The God I saw represented in more public-facing and louder expressions of Christianity was nothing like the God I know," she said. "The God I know is present in relationship and connection, and I kept seeing people make God so small that God couldn't be outside of a church building and active in the world."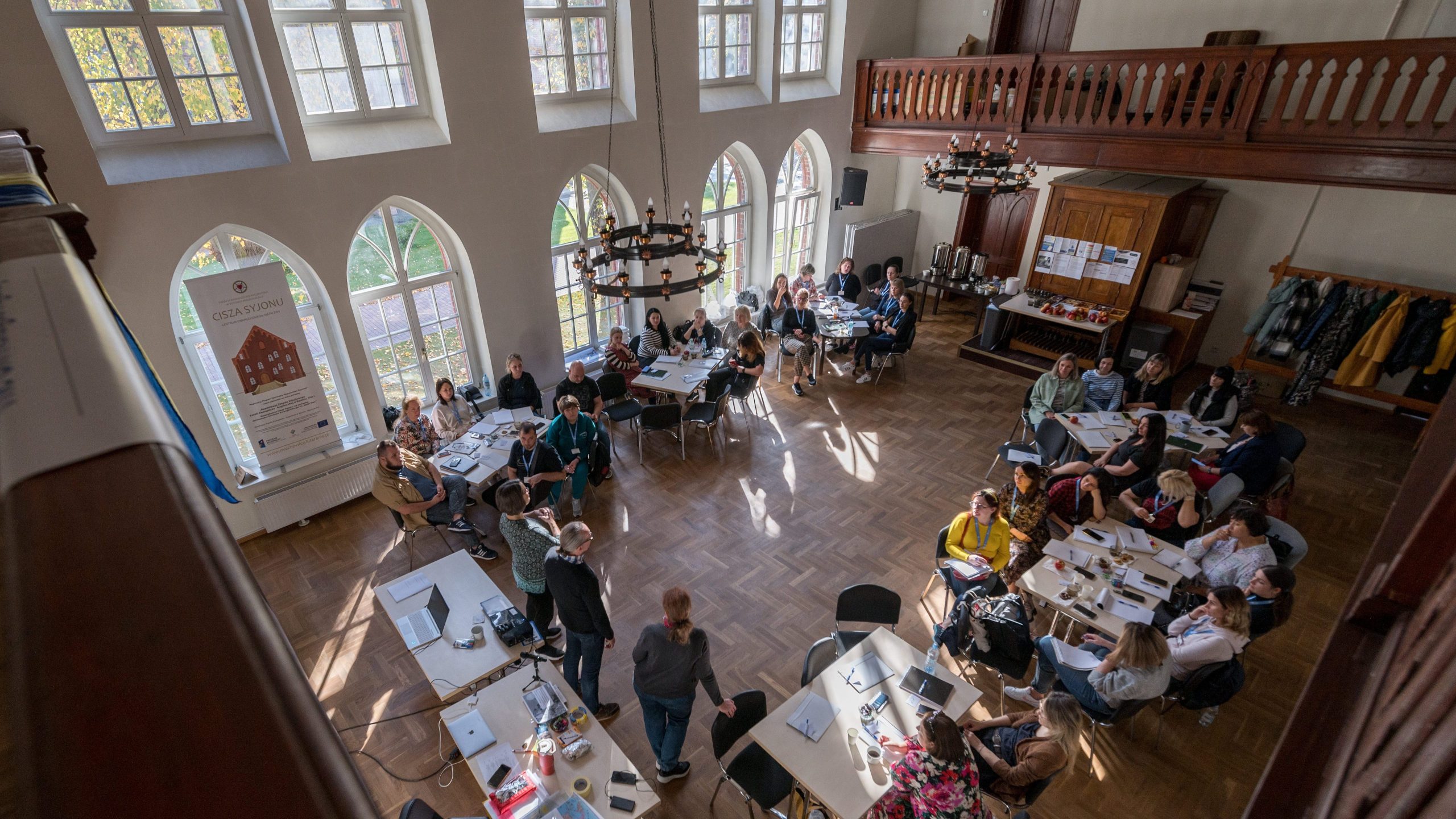 Albin Hillert/Lutheran World Federation
Lutheran World Federation staff members who support Ukrainian refugees gather in Bytom, Poland, on Oct. 17, 2022, for a weeklong training in community-based psychosocial support provided through ACT Church of Sweden.
Eskesen also realized that as a pastor and missionary, she could still fulfill what she loved about the idea of becoming an English professor: "I have the opportunity to mentor, to encourage, to identify gifts in people, and lift those up and strengthen them."

Her interest in global humanitarian work, Eskesen said, relates to her understanding of faith: "How God operates in the world is that we belong to each other. So the suffering of the world, that is our suffering, and if there is a chance to help people understand the interconnectedness of our lives and of creation, I will seek to do that."
The Rev. Melissa Maxwell-Doherty, '77, MDiv '81, vice president for Mission and Identity at Cal Lutheran, remembered Eskesen as an undergraduate. "She was inquisitive and kept working to link her studies to what was going on in the world," Maxwell-Doherty said. "I was not surprised when I learned that she had enrolled in a Lutheran seminary as I saw her as a person with emotional intelligence and spiritual grit."
Crisis response
As the ELCA desk director for Europe, Eskesen coordinates closely with ELCA Lutheran Disaster Response to connect with ecumenical and Lutheran partners across Europe, especially in Poland, Slovakia, Czech Republic, Hungary, Germany, Romania, Ukraine, Belarus, Moldova and other countries, and oversees grants to support their local efforts on the ground.
In Europe, she said, the ELCA prioritizes five interrelated areas of justice: migration, gender, environmental, racial and economic. The ELCA's work ranges from empowering Roma communities, to serving refugees arriving through Serbia and the Mediterranean, and most recently, to helping the people — mainly women and children — fleeing violence from the war in Ukraine that started when Russia invaded the country in February 2022.
Early on, Eskesen focused on collaborating with ELCA partners to provide immediate shelter and aid to displaced Ukrainians, supplying items such as food, beds, blankets and hygiene products, along with pastoral support, transportation and housing. Now, with ECLA Disaster Response, Eskesen and her team are coordinating with local partners to strategize long-term support for refugees.
As winter approached, one goal was to winterize housing for refugees, Eskesen said. "These accommodations are often summer camps or retreat centers and need to be updated to keep people warm through the winter."
The greatest successes in helping the refugees, she said, have all come from "meaningful collaboration." For example, a colleague from a Lutheran church in Ukraine called to ask if she knew of a place where a displaced congregation member driving through Budapest could stay. Eskesen called the bishop of a Lutheran church in Hungary, who directed her to a retreat center.
"I've witnessed a million examples of this kind of particular caring welcome this last year," Eskesen said.
Eskesen's husband, the Rev. Zachary Courter, MDiv '17, also works for the ELCA. "I feel called to ministry on the borders," he said. "In seminary, I imagined this to be somewhere in the USA among a Latinx community. It wasn't until I met and married Rachel that I discovered the borders and margins for doing ministry in Europe as well."
Global guidance
Eskesen advised anyone considering humanitarian vocations to "never stop learning about how the structures of systemic injustice have impacted you and the humanitarian work and context in which you hope to serve."
She recommends exploring opportunities with the ELCA Young Adults In Global Mission program (for those ages 21 to 29), but also reminds people to not forget "the world nearby" in their own communities.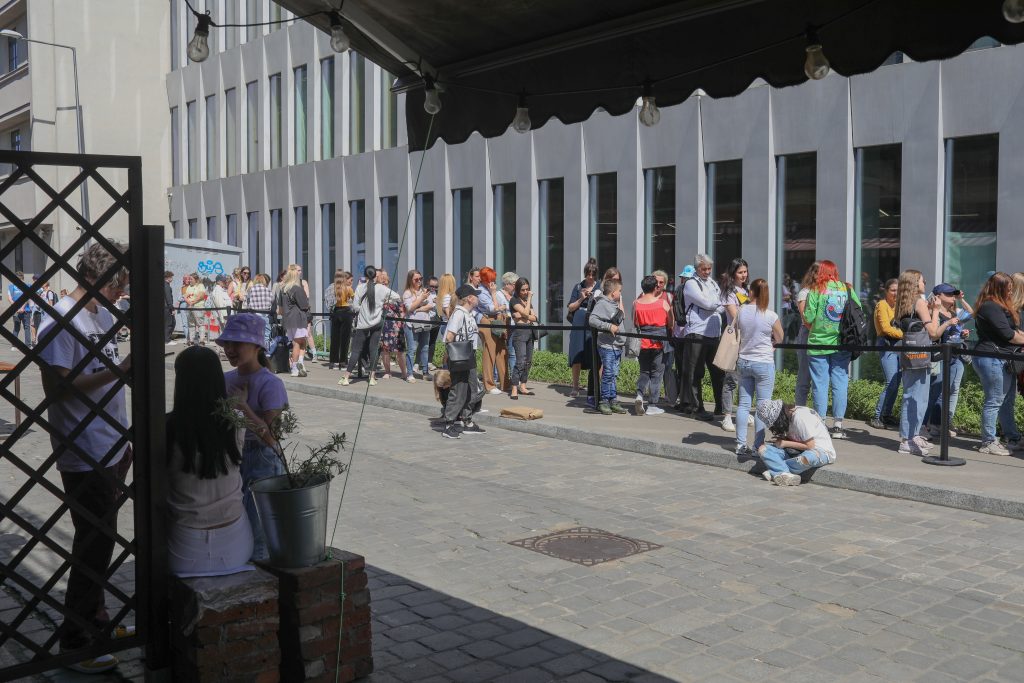 Albin Hillert/Lutheran World Federation
Ukrainian refugees wait to get into an assistance center in Wroclaw, Poland, on May 19, 2022. The center supports thousands of refugees with emergency cash for three months.
Part of Cal Lutheran's mission is to "educate leaders for a global society." Preparing students to be global citizens, Maxwell-Doherty said, happens both in and outside the classroom, through learning and activities that "expose the students to people with a diversity of cultures and lived experiences that are different from their own."
Eskesen said the skill of "interpreting texts," key to pastors and English literature experts alike, also helps international humanitarian workers. "In biblical interpretation, it's important to look in front, behind and in the text, so there's no 'The Bible says,' because books don't talk, people do," Eskesen said. That contextual understanding, she believes, is also important to those tasked with interpreting complex cultural situations.
"It's really important to get to know people, what their story is and how they are situated within our global context," she said. "Because we're all connected to each other."
— For more information about the ELCA's efforts to serve Ukraine refugees, or to make a donation, visit bit.ly/3WumElH.
---
Karen Lindell has been a newspaper, magazine and website writer and editor for more than 15 years, including work at the Ventura County Star, L.A. Parent magazine, Los Angeles Times, Ojai Valley News, VC Reporter and Ranker.com. She lives in Pasadena.