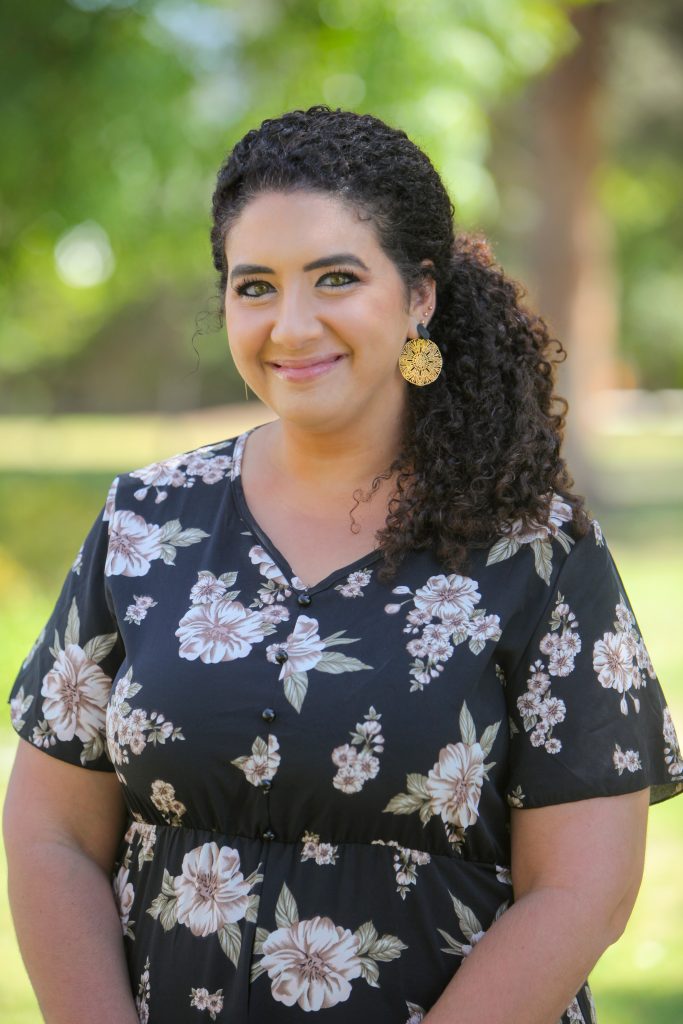 Nearly four years after joining the Cal Lutheran faculty as an assistant professor of psychology, Amanda ElBassiouny, PhD, likes to joke that she's a senior.
But ElBassiouny is in no rush to leave campus at the end of the academic year. She's looking forward to her promotion to associate professor this fall. And she thrives on learning alongside her students as they explore the same facets of psychology that drew her to the subject in the first place.
"I really appreciate their perspectives on the material and the fresh takes they have. It helps me to think about it differently, so the learning goes both ways," said ElBassiouny, who teachessocial psychology, forensic psychology, health psychology, and the psychology of prejudice and discrimination in addition to courses on research methods and statistics.
She also serves as mentor and co-author on student research projectsthat focuson such issues as how decisions made by jurors and parole boards might be affected by the race, ethnicity, religion, education level and/or socioeconomic status of a defendant or incarcerated person.
Some of the projects have already been presented at conferences or published in psychology journals. Others, like a study on how jurors' religious, moral and spiritual identities might affect verdicts in cases involving Muslim defendants, are making their way through the peer-review pipeline.
The research builds on awareness raised by Black Lives Matter and similar movements, and on her students' interest in topics involving equity, diversity and inclusion, ElBassiouny said.
Raised in Brooklyn, New York, ElBassiouny points to being an only child as the spark for her early interest in psychology.
"I was very observant and just wanting to connect with people in different ways, to understand them a little bit more," she said. "I don't know that I even fully understood what it was at the time, but I decided in middle school that I wanted to be a psychologist."
How did you turn that childhood interest into what you do now?
When you think about psychology, you tend to think about becoming a therapist. But there's so much more to it. As an undergraduate I went to Brooklyn College, which has a great psychology program with a lot of specialty areas. One of my professors, Aaron Kozbelt, PhD, helped me hone my research skills. He worked with me on how to start a project, how to run a study with participants in a lab. We analyzed the data together, wrote it up and got it published in a journal. That was my first publication, and it was as an undergrad.
When I made a list of everything that excited me and what I wanted to focus on, it was all within social psychology. I knew that getting a PhD was the route I wanted to take, because it's a research degree that was also going to allow me to teach. I moved to Washington, D.C., to go to Howard University, where I got my master's and my PhD. My adviser, Lloyd Ren Sloan, PhD, really helped me develop as a researcher, as an academic and as a professor.
I try to channel them both for my own students because they were so impactful in the way they mentored and believed in me.
How do you and your students conduct research for projects exploring the potential for discrimination within the judicial process?
[It's done] with mock jurors and mock parole board members who meet the same requirements needed for participation in real-world cases. [We] adapt materials from previous research projects, or create new ones, that look like the case files they would get while judging a case. … The variables [we're] studying are then embedded within those files. For the parole-board decision study, for example, the file included how long they were incarcerated plus a variable, such as what their race/ethnicity was, or if there was a mental health diagnosis, or if they made a positive change while incarcerated, and whether that positive change was related to converting to a different religion or was unrelated to a religious affiliation.
What are the results of the study involving Muslim defendants?
We had mock jurors … whose identities we primed to be either religious, moral or spiritual, so they were thinking of themselves in that sense. We found that those with a moral identity were more lenient in evaluating the case of a Muslim defendant, whereas those with a spiritual identity were more lenient when the defendant's religion wasn't stated.
When asked to list factors they used in evaluating the case, mock jurors identified several that were unrelated to the evidence. For the Muslim defendant, a percentage of mock jurors used the defendant's religion and what they thought their race/ethnicity was, because we didn't state what their race/ethnicity was. [The jurors] just assumed a racial or ethnic identity — and an overwhelming majority believed the Muslim defendant was Arab or Arab American, particularly when they were evaluating a case of terrorism rather than arson.
On a lighter note, you're known for using memes in your lectures. What does that bring to the educational experience — and what's your favorite meme?
It brings some humor into the classroom. … It helps [the students] engage with the material in a different way, through pop culture and relating to their everyday lives. Sometimes I have students create their own memes at the end of the semester, which just shows another level of mastery and understanding of the material.
My favorite meme is always changing. But one I like to use … is "Know any psychology jokes?" "I'm a-Freud not" with that classic picture of Freud in a three-piece suit. It's hilarious.
Lisa McKinnon is a longtime Ventura County resident who has written for the Ventura County Star, 805 Living magazine and Central Coast Farm & Ranch magazine. She blogs about the region's food scene at 805foodie.com.