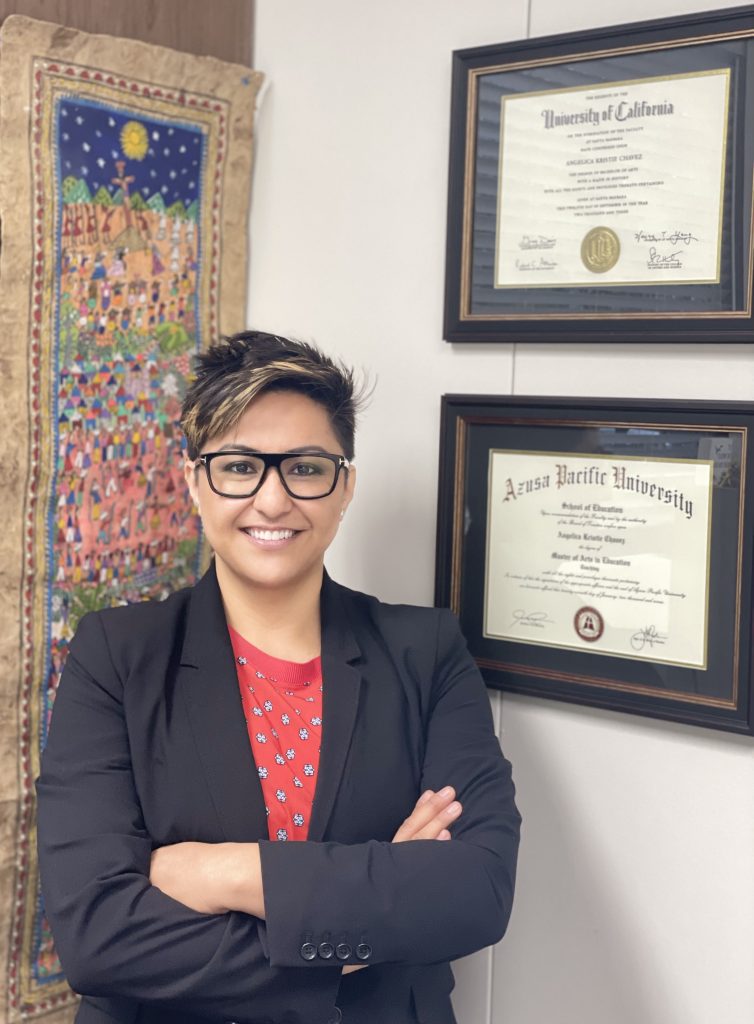 A new position is rapidly becoming an important part of the organizational landscape: chief diversity officer.
Companies, nonprofits and educational institutions have become increasingly cognizant of the need to address and support diversity, equity and inclusion (DEI) related to race, ethnicity, sexual orientation, gender, age, ability, religion and socioeconomic status in a comprehensive way. The outcry over the George Floyd killing, the #MeToo movement and the spotlight on systemic racism and gender identity have helped bring these issues to the forefront. While DEI work is not new, organizational leaders are prioritizing it by adding dedicated leadership positions that have the power, reach and resources to make broad and meaningful changes.
"Many brave organizations, including Cal Lutheran, are taking a critical look at themselves and asking, 'Are we truly an inclusive workplace?'" said Cristallea K. Buchanan, MS, Cal Lutheran's inaugural vice president for talent, culture and diversity. "These organizations understand that committing to DEI leads to a more engaged workforce, creativity and innovation. And it's the right thing to do."
In Higher Education
President Lori E. Varlotta, PhD, created Cal Lutheran's new DEI position and fashioned it specifically for the university after she took the helm in September 2020. The job description ties DEI to the university's Lutheran traditions, identity as a Hispanic-Serving Institution (HSI), and employee recruitment and retention.
"I wanted DEI to be woven into the fabric of the university, not tacked on to the fringe," Varlotta said.
Buchanan said it was both the configuration of this particular position — one that married DEI to the university's mission — and the access to and support from the institution's CEO that called her to Cal Lutheran. "This job has to be structured with access to the highest level in the organization and … the resources and authority to make changes," Buchanan said.
She brought two decades of corporate and nonprofit DEI experience when she started her position in August 2021. She oversees a newly configured division that includes Human Resources, Mission & Identity, and several grant-funded programs associated with the university's federal status as an HSI.
As a member of the president's Cabinet, she is integrating DEI efforts across the university and advocating that DEI principles shape decision-making.
In her position, Buchanan helps to recruit and retain diverse faculty and staff; advises the president and Cabinet on ways to reinforce a culture of belonging and social justice; and bolsters Cal Lutheran's efforts to enroll and graduate traditionally underserved students. A three-pronged focus on accountability, programming, and structural and policy changes guides her work.
She leads a seven-member DEI Core Team formed this year. This cross-departmental team includes members from Athletics, Student Life, Faculty Development and Inclusive Excellence, the Center for Global Engagement and HSI programs. The members created a charter and a website, CalLutheran.edu/diversity, with policies, events and other information.
Last fall, Buchanan helped the university finalize and launch an Incident Reporting System, which serves as a central place to report instances of bias, harassment and discrimination so they can be reviewed and forwarded to appropriate departments for investigation and/or resolution. Statistical data on the reports will be shared in an annual report.
Working with the Human Resources Department and the Cabinet, Buchanan has ushered in other policy changes. These include a one-day floating holiday for employees to take a day off to honor any occasion — cultural, religious or personal — that's important to them and a "Dress for Your Friday," which allows employees to wear more casual clothing.
"Most Americans live paycheck to paycheck, and professional clothing and dry cleaning is costly," Buchanan said.
Looking forward, Buchanan plans to work with others to establish equity hiring guidelines for staff, launch a mentoring program for students of color, and develop a work climate survey for employees.
In K-12 Education
Another leader in the field is Cal Lutheran alumna Angelica K. Chavez, EdD '14, who joined the Simi Valley Unified School District in July as its inaugural coordinator of diversity, equity, inclusion and humanities. Previously an assistant high school principal in Simi Valley and high school history teacher, Chavez has been a lifelong advocate for DEI in education.
"DEI is not a passing phase," Chavez said. "Americans have always believed in liberty and justice for all, but these things haven't unfolded as fast as we thought."
Chavez's focus is on student well-being. "If kids are afraid to come to school or don't feel welcome at school, they're not going to thrive," she said.
Chavez said her job "is like a flashlight," spotlighting groups that might be excluded or whose voices are not being heard. These can be ethnic or racial groups, low-income students, girls, those with disabilities, and members of the LGBTQ+ community. She advocates for them in conversations, whether it's with a teacher, library clerk or principal.
One of Chavez's first tasks was creating a DEI and Humanities resource hub in Google Classroom for staff to access updated information and quick answers to a host of questions. She also visits schools and club meetings to listen to students and helps teachers and other employees remember to look through a DEI lens.
"One of the most important things we have accomplished so far is empowering our teachers with knowledge, especially around our LGBTQ+ students," Chavez said. This includes providing information about preferred pronouns and names, and regulations related to transgender or gender-fluid students. She also helps district staff understand federal and state education code requirements.
In Health Care
Cal Lutheran alumnus and board-certified urologist Dr. Tracy M. Downs '88 is in his second DEI-related job. In July, he was named the inaugural chief diversity and community engagement officer at the University of Virginia (UVA) Health System in Charlottesville, Virginia, after previously serving as the associate dean for diversity and multicultural affairs at the University of Wisconsin School of Medicine and Public Health.
His eight-person team is leading DEI efforts throughout the medical system and in the local community.
In his new role, Downs hopes to diversify even further the UVA Health System workforce to include more underrepresented groups. He also expects to improve DEI training for employees to ensure patients will be respected from a cultural perspective and have equity in health care outcomes. For example, Downs said data shows that "heart failure patients are treated differently based on their race/ethnicity. If they are [Hispanic] or Black [versus white patients], they are less likely to be admitted to a cardiology service compared to a general medicine floor, which leads to suboptimal clinical outcomes in Hispanic and Black patients." Downs and his team also plan to launch a systemwide comprehensive equity dashboard for patient care.
To educate employees about how health care for white and Black patients has differed in the South, he collaborated with the Health Sciences Library to create an online presentation as well as an in-person guided tour for employees titled "The History of Race at The UVA Medical Center: 1901-2000."
"When we tell employees that not too long ago, Black patients received segregated health care even to the point of receiving their health care in the basement of the hospital, I think it reminds us of our history and prompts us to do better as we work toward inclusiveness," Downs said.
In the community, Downs wants to address the social determinants of health, such as education and food insecurity, lack of access to health care and affordable housing, that lead to health disparities in underserved groups.
In rural areas, poor health can be tied to economic issues. Residents might live too far from a store or pharmacy to get their prescriptions filled, or low-income patients have to make tough decisions about the cost of driving more than 20-30 miles to get their medicine. Previously, those patients would have been listed on a medical chart as being "noncompliant," which needs to change, Downs said.
Culture Shift
As these DEI officers move forward with their initiatives, Buchanan hopes people will remember that DEI is about a shift in culture.
"It takes time to change cultures," she said. "And we need grit and grace while we go through the change management."
Amy Bentley, a professional journalist for 35 years, has written for media, businesses, government agencies, nonprofit organizations, and publications including the Ventura County Star and Beachcombing Magazine. She covers topics ranging from education, water and the environment to parenting, travel and health care.