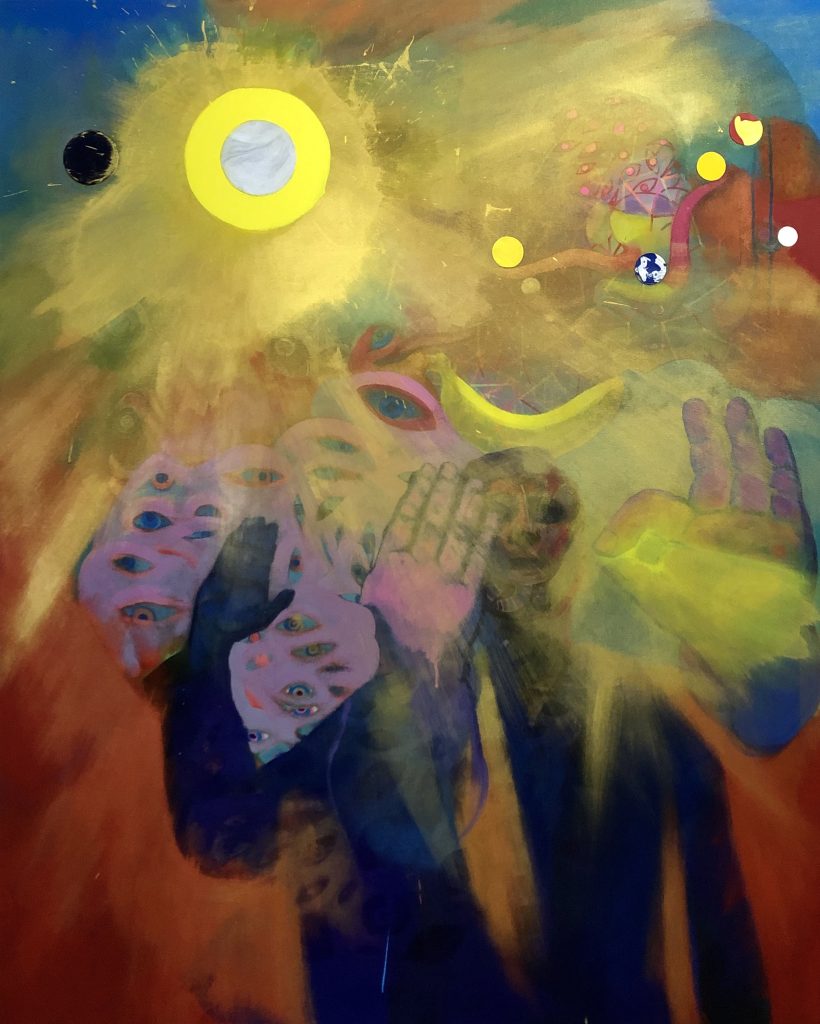 (THOUSAND OAKS, Calif. — March 4, 2022) An online art exhibit and virtual conversation series organized when the COVID-19 pandemic kept people from connecting in person has become an in-person exhibit that examines the concept of community.
"Common Ground: Artists Reimagining Community" opened Feb. 17 in the William Rolland Gallery of Fine Art on California Lutheran University's Thousand Oaks campus and will be on display through April 8.
In May 2020, while California was in the early months of its COVID-19 stay-at-home order, Cal Lutheran adjunct art faculty member Jennifer Vanderpool and Rachel Schmid, curator of collections and exhibitions, began assembling the original virtual exhibit. Inspired by community aid efforts that started with individuals issuing pleas to their connections, Vanderpool decided to employ this as a curatorial strategy. She invited 10 artists to exhibit who, in turn, each invited an artist who then asked another. The project continued to grow like a web to eventually include 24 artists when it launched online in November 2020.
The works included in "Common Ground" — experimental film, music, comics, paintings, photography, graphic novels and more —questioned the concept of community.
"The exhibit explored how we as a communal society engaged in civil contestation can reimagine what might be by addressing the sociopolitical and economic ruptures laid bare by COVID-19 and the Black Lives Matter movement," Vanderpool said.
The artists were invited to include more recent work in the in-person show, but it features the same variety. Two screens and a projector show videos, and patrons can pull up short films on their phones by scanning QR Codes.
"The in-person exhibit is a combination of works by established, internationally exhibited artists with incredible rising stars fresh out of graduate and undergraduate programs or just starting their careers," Schmid said. "It's this wonderful visual network where artists bolstered each other and invited their community, and you can see branches out to Akron, Ohio, and Atlanta, Georgia, where our roots stretch further than our geographic footprint."
In connection with the online exhibit, Schmid and Vanderpool paired up artists and researchers over Zoom to discuss different concepts of community. The pairs explored a range of topics including aging, architecture, autism, filmmaking, kindness, memories and sex work. The online exhibit and recordings of the both the conversation series and a March 1 in-person talk by featured artist Walpa D'Mark of Los Angeles are available at https://bit.ly/3kVWOpp.
Access to the gallery and online offerings is free. The gallery is open from 10 a.m. to 4 p.m. Tuesdays through Fridays and 11 a.m. to 3 p.m. Saturdays. For more information, visit RollandGallery.CalLutheran.edu, email rtschmid@callutheran.edu or call 805-493-3697.